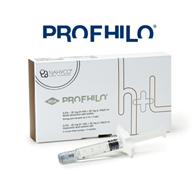 Profhilo is a unique BDDE-free Hyaluronic Acid (HA) filler that is used as an "injectable moisturizer" and causes bio-remodelling of the skin with the deposition of new elastin and collagen. This results in improvement in the signs of skin ageing e.g. superficial fine lines and wrinkles, skin laxity, dryness of the skin, etc.
What is Profhilo mainly used for?
It is used mainly to improve overall skin quality of the face and neck. Please see above point.
Profhilo has one of the highest concentrations of HA in the market. Each syringe consists of a combination of 32mg of High Molecular Weight (HMW) and 32mg of Low Molecular Weight (LMW) HA. It is advised to be injected intradermally via the proprietary 5 Bio Aesthetic Points (BAP) on each side of the face. These points have been carefully preselected to ensure optimal diffusion of the product.
How many treatments are needed?
The first 2 treatments are spaced 1 month apart. Subsequent maintenance sessions are recommended to be at 6 to 9 monthly intervals.
Can Profhilo be combined with other treatments?
Are there any side effects for Profhilo?
There are no long-term side effects, as it is broken down by the body completely. It is also bio-compatible, and doesn't cause any inflammatory reaction.
Although there are minimal side effects when injecting on the face, except for occasional bruising, it is important to make sure that you find an experienced aesthetic doctor as there are vital blood vessels to avoid when injecting in areas such as the neck.
To achieve the best possible outcomes, it is crucial to pay careful attention to the injection technique. Injecting Profhilo too deep into the skin will not deliver satisfactory results.
It is the latest addition for the treatment of skin laxity of the body, particularly the abdomen, arms and above the knees. It also requires 10 BAP points per area of treatment.