AestheFill is a new generation collagen-stimulating dermal filler. It's main ingredient is PDLLA (Poly-D-L-lactic Acid), which is a FDA-approved, biocompatible, biodegradable, and biostimulatory substance. AestheFill helps to naturally stimulate the production of collagen. Unlike traditional fillers, Aesthefill works by restoring natural volume to the contours of your face, resulting in a rejuvenated and younger appearance.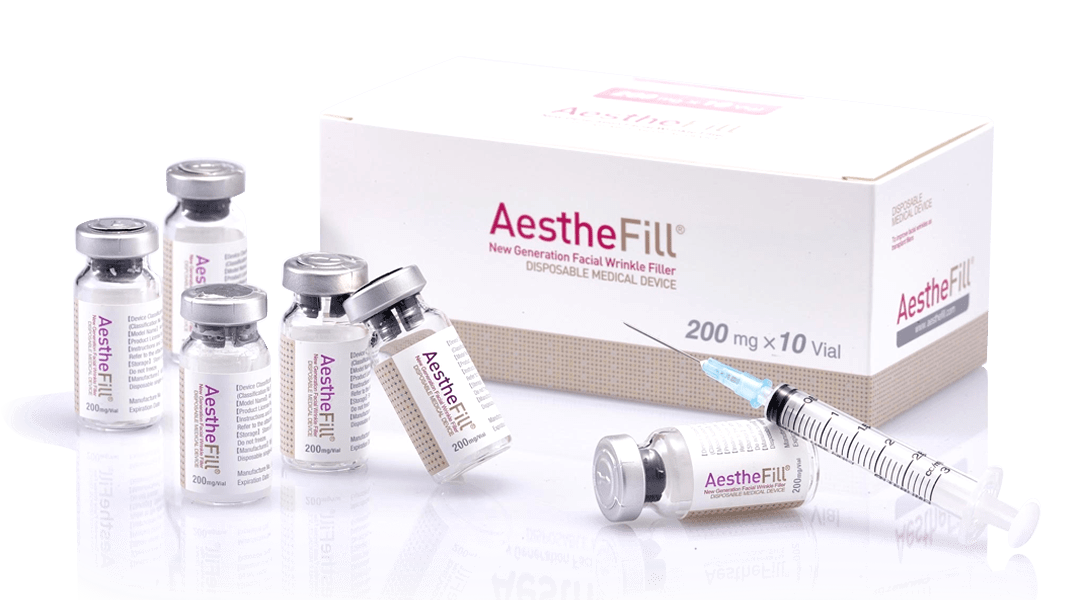 Who should consider AestheFill?
AestheFill treatment is suitable for anyone who wish to combat the signs of aging such as sagging, dullness, and dryness in their skin.
Safe: AestheFill is made of PLA (polylactic acid) which is US FDA approved.
Customizable: Dr. Ngiam can adjust its concentration for injection to different treatment areas to help achieve your desired outcome.
No Migration: AestheFill stays in the injected treatment area and does not move to other parts of your face.
Lasting Results: After treatment,  AestheFill continues to stimulate collagen production; allowing the results to last up to 2 years.
Which areas of the face can AestheFill treat?
AestheFill can be safely injected in the following areas:
Temples
Forehead
Undereye
Cheeks
Nasolabial folds
Marrionette lines
Chin, Jawline
Neck
How many treatments do I need?
Dr Ngiam recommends a course of 2-3 injection sessions spaced 4 weeks apart to see clinically appreciable results.
What can I expect during the treatment and how long does it take?
Firstly, your face will be cleansed thoroughly. This will be followed by application of a numbing cream for approximately 15 to 20 minutes to minimize any discomfort during the injection. 
When can I start to see results and how long do they last?
Results can be noticed almost immediately after the treatment. 
However, after the first week, there might be a slight reduction in the initial outcomes. This is a normal occurrence caused by the absorption and excretion of the solvent, primarily water, from the injected areas.
You will see more noticeable results over the next 1 to 2 months as new collagen generates gradually.
Once desired results have been achieved, AestheFill can last up to 2 years.
How soon can I return to normal activities?
There is minimal downtime – you can actually resume your usual lifestyle as soon as your treatment is over.
Are there any side effects?
Fillers used nowadays are generally safe and seldom produce severe side effects. The most common side effects are injection-related, such as redness, pain, itching, swelling or bruising. These post-treatment reactions are usually mild and disappear after a few days.