Non-Surgical Upper Eyelid Lift
Non-Surgical Upper Eyelid Lift
What is upper eyelid ptosis?
Upper eyelid ptosis, with skin laxity and drooping is one of the most common complaints by patients presenting at the aesthetic clinic. This process usually begins in the patient's late 20s to early 30s. Eyelid ptosis results from conditions that affect the structure of the upper eyelid, It can cause the patient to appear tired and severe cases may even lead to functional issues such as obstruction of the patient's visual field.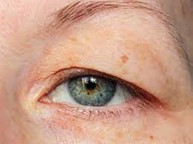 How can upper eyelid ptosis be treated?
Treatment options at our clinic include a combination of non-surgical methods e.g. using microfocused ultrasound (MFU, Ultherapy) to tighten and lift the upper eyelid skin, using botulinum toxin to achieve a chemical brow lift, etc. Please see the respective treatment subpages for more details.