What is the process of ageing?
Ageing is a multifactorial, ongoing process which affects all layers of the face. In fact, approximately 50 to 55% of facial volume is lost by the age of 50. Below is a summary of changes that occur during the ageing process.
Loses elasticity/hydration with the formation of wrinkles and folds

Atrophy (shrinkage with loss of volume) and hypertrophy (enlargement with increase in volume) can occur

Muscles lose mass and contract

Bone resorption (loss of volume and density) occurs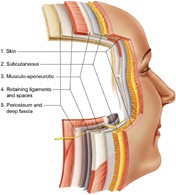 What is facial sculpting?
Facial sculpting is the process of reversing the changes that occur with ageing through safe, evidenced-based, customised treatments to enable patients to age gracefully and confidently. These treatments do not aim to fundamentally change how the patient looks, but rather to enhance the patient's existing facial characteristics for a better cosmetic outcome.
These include e.g. use of dermal fillers to restore deep support that is lost due to bone resorption and fat atrophy, tightening and lifting the skin and subcutaneous tissue with MFU (microfocused ultrasound, Ultherapy), etc. Please see the respective treatment subpages for more details.