Acne is a common skin condition affecting the hair follicle and sebaceous gland, in which there is expansion and blockage of the follicle resulting in inflammation.
Acne scars form as a result of the normal healing process of inflammatory acne lesions e.g. nodules and cysts. Fibrosis occurs with new collagen laid down to heal a full-thickness injury. It affects roughly 30% of those with moderate to severe acne vulgaris. To reduce the chances of scarring due to acne, seek treatment for your acne early.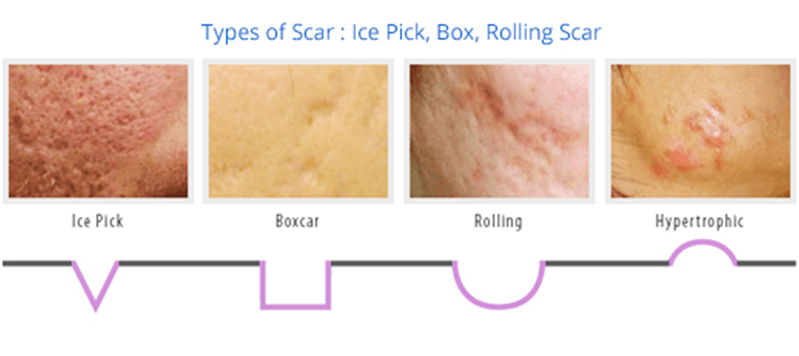 Post inflammatory colour changes are seen after inflammatory acne lesions have recently healed.  Post inflammatory erythema are pink and purple flat patches. Post inflammatory pigmentation are brown marks that occur in mainly darker-skin individuals. Post inflammatory hypopigmentation are white marks on the skin.
1. Ice-pick scars – these are deep, narrow and pitted scars
2. Rolling scars – broad depressions with slopping edge
3. Boxcar scars – broad depressions with sharply defined edges
4. Atrophic scars – flat, thin scars or depressed scars
5. Hypertrophic or keloid scars – lumpy scars